Gaelle Lemelson
|
Associate
Ms. Lemelson served as a legal intern at Gornitzky & Co. and has been an associate with the firm since 2015.
Mrs. Lemelson spends most of her time in the fields of corporate law, capital markets and securities. She is involved in advising to the firm's corporate clients regarding their ongoing commercial and corporate activities. Gaelle is further involved in representing clients vis-à-vis the authorities regarding securities and different corporate regulations. Additionally, Gaelle is involved in advising public companies on various capital market related matters.
During her legal studies, Gaelle was a member of Tel Aviv University's Law Review, "Iyunei Mishpat" and she also volunteered as a teacher of law as part of the "University Within Reach" program aimed at improving access to higher education.
Education
B.A., Political Science, Tel Aviv University (2013)
- Dean's List (2011)
LL.B., Tel Aviv University (2014)
Admission
2015, Israel Bar Association
Academic Positions
Research Assistant, Evidence Law (Prof. Talia Fisher) - Buchman Faculty of Law, Tel Aviv University (2011-2013)
Languages
Hebrew and English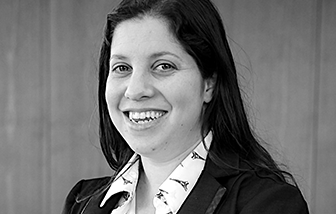 Contact Info
Zion Building, 45 Rothschild Blvd., Tel Aviv- Yafo, 6578403, Israel