Mr. Fleischer has been an associate with the firm since 2008 and a partner since 2015.
Mr. Fleischer specializes in commercial litigation cases, both of national and international nature, in a diverse range of fields, including, inter alia, complex capital market matters, shareholder disputes, bankruptcy and liquidation, administrative law, venture capital funds, tenders, derivative actions, class actions in various complicated matters such as banking and insurance, energy sector, oil and gas, etc.
Ofer has vast experience in litigating cases before various instances in the Israeli Court system (including the Supreme Court), different Israeli authorities and regulators, as well as in conducting arbitration and mediation proceedings.
Ofer also provides his clients (including individuals and corporations, both foreign and domestic), with legal advice on ongoing corporate commercial matters, as well as legal advice throughout various types of commercial transactions.

Notable recent representations include:

• Representation of Bank Hapoalim, Israel's largest bank, in multiple class action suits;
• Representation of the Tel Aviv stock exchange in several complex litigation cases;
• Representation of the liquidators of a company that was controlled by the state of Israel in a lawsuit against the shareholders of the company that caused the company to collapse, inter alia, due to thin capitalization, leaving debts of hundreds of millions of NIS.
• Representation of a leading transportation corporation in several suits (derivative and others) filed against it and/or its officers and directors;
• Representation in high volume arbitration proceedings regarding the sale of the controlling stake in a public company.
• Representation of a prominent Israeli academic institute in a suit against it in relation to funds contributed to the institute in the past, which originated, allegedly, in the Madoff scheme.
• Representation of a leading European public company in litigation regarding a possible investment in an Israeli start-up investment-firm
Education
LL.B., magna cum laude, Tel Aviv University (2007)
Undergraduate program in Economics, Tel Aviv University (2007)
Admission
2008, Israel Bar Association
Languages
Hebrew and English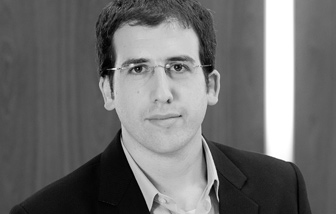 Contact Info
Zion Building, 45 Rothschild Blvd., Tel Aviv, 6578403, Israel