Ms. Tenennbaum began her legal career at Gornitzky & Co. as a legal intern, and has been a partner with the firm since 2011.
Orly specializes in litigation and dispute resolution, including arbitration and mediation proceedings. She has vast experience in appearances before the Israeli courts, and she regularly litigates in major complex cases before different legal instances and before Israel's prominent arbitrators and mediators.
Orly represents dominant companies and individuals in the Israeli market, including leading businessmen, major entrepreneurs and multinational companies operating in Israel.

Ms. Tenennbaum has dealt, inter alia, with the following matters:
Representation

of corporations and individuals in claims involving the deprivation of the rights of minority shareholders in public companies;
Representation of concerns in the infrastructure and energy fields, in legal disputes with the State of Israel;
Representation of one of the largest hotel chains in Israel;
Representation of partners in substantial ownership and control disputes;
Representation of some of the largest Israeli real estate corporations.
In her real estate practice, Orly has represented the firm's clients in matters regarding both private and commercial real estate, such as the construction of large scale residential projects, income producing assets and other real estate transactions.
In her mediation practice, Orly serves both as a mediator and an arbitrator and utilizes her understanding of commercial disputes and the known expenses and disruptions of court litigation, to assist individuals and business entities in finding alternative dispute resolution solutions. She specializes in on-going commercial-civil disputes between companies and individuals.
Education
LL.M., cum laude, Bar-Ilan University (2008)
LL.B., Interdisciplinary Center (IDC) Herzliya (2000)
B.A., Business Administration, (financing) Interdisciplinary Center (IDC) Herzliya (2000)
Certified as a mediator by the Institute for the advancement of teaching, learning and social integration in the schools (approved by Gadot Committee, the Ministry of Justice) (2007)
Admission
2001, Israel Bar Association
Organizational affiliations
Vice chairman of the Israel Bar Association Courts Committee

Chairperson of the Israel Bar Association Legislative Civil Procedure and Evidence Committee

Member of the Israel Bar Association Ethics Committee (the Tel Aviv District) (2015-2018)

Member of the Israel Bar Association Ethics Committee (2010-2013)

Member of the Israel Bar Association Judges-Advocates relationship Committee (2008-2013)
Academic Positions
Lecturer, Legal Writing – L.L.B Degree, Faculty of Law, Ono Academic College
Mentor for undergraduate students in the Law excellency program of IDC.
Languages
Hebrew and English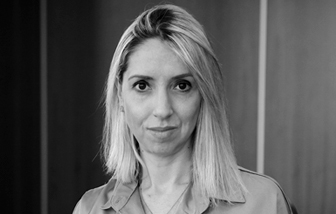 Contact Info
Zion Building, 45 Rothschild Blvd., Tel Aviv, 6578403, Israel
LinkedIn Profile