Tel-Aviv Office
Gornitzky & Co.'s main office is located in the prestigious "Zion Building" office tower on Rothschild Boulevard in Tel Aviv, only a few meters away from the Tel Aviv Stock Exchange and from Achad Ha'am Street, where the firm's first offices were located in the 1950's.
The firm's reception desk and main conference rooms are on the 12th floor of the tower, overlooking the old Jaffa port and the White City, a UNESCO World Cultural Heritage site.
Parking is available in the Zion Building garage and in nearby parking lots.
45 Rothschild Blvd.
Tel Aviv, 6578403 Israel
P.O.B. 29141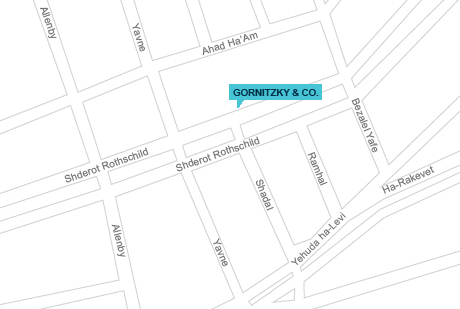 For recruitment related inquiries, please refer to Careers.
For inquiries relating to our legal services, please contact a partner in the relevant practice area.
For all other inquiries, please complete the form below: